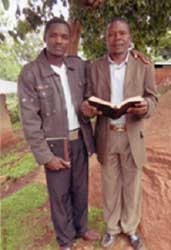 Dear faithful Brothers and sisters in Lord our savior!
I am Pastor David Nyabuto from western parts of Kisii, Kenya. My assistant pastor William and I are full time pastors in feeding the souls that God has given us in our church. We are located in Kisii county Bomachoge, just 32 KM from Kisii town. Our church is called Kingdom Life Chapel of Kisii, Kenya Mission located in Bomachoge. This is where our small group serves the lord in spirit and truth!
We are so happy to let you know that God is doing great things in our live as we keep staying faithful and close to Him in preaching the word without compromising the Truth! We are at a time that our faith is being tested and proven, temptations and much opposition from different religions but this does and will not halt us from being faithful to our calling! If you are a genuine believer, you have most likely already experienced such adversities. But one thing I know, it does not matter what we undergo in this present life, we need to stay focused in Christ a lone and know the power which is on the cross!! I know the Son of God when he was on this world; He healed the sick, raised some from death and more other wonders. But people opposed him again, and they persecuted him!! What of me, a mortal man?
The psalmist declares: "Be still, and know that I am God: I will be exalted among the heathen, I will be exalted in the earth" (Ps. 46:10). Christian, learn the lesson of when to stand still. Learn how to wait upon the LORD. We were all sinners and had no hope but when as we got saved, we have hope in Jesus Christ. "But God commendeth his love toward us, in that, while we were yet sinners, Christ died for us" (Rom. 5:8).
We are three churches in Kenya and are registered under our Mother church in Washington, PA. From America. We have learned a lot of teaching with our believers such as teaching in Water and Holy Spirit Baptism under the name of Jesus Christ with an evidence of speaking in tongues! Many churches here do neglect this gift of baptism of the Holy Spirit and that is why they have always rejected and opposed us. But it is nigh time that every believer must know this: No single word of God should be avoided nor added to. Proverbs 30:6. Deutronomy4:2.
Throughout the years we've been affiliated and registered under our mother church, we have always seen the mighty hand of God going before us in holding Crusades and Revival meetings in several parts in our country. In December 2012, we had a big crusade in one of our affiliated church under leadership of Bro. Pastor James, and all of our pastors and church elders from all churches were there. Many souls were saved and now are the happiest people in their new life in Jesus Christ with an evidence of speaking in new tongues. We humbly need your prayers and if you read this on this website, please join us in helping to supply these and others with the word of God. Our church is also involved in giving aid to 15 orphaned children. These young children deserve our love and other basic support such as food, clothing, Bedding and school supplies. Through the support from our Mother church, these children are going to school, getting food and others. If you desire to become a part of this ministry, please contact Apostle Thomas and let him know that you would like to help with your support.
We wait for the lord. He has never been too late to rescues us from our enemy or in troubled times. We know that the hard times and troubles we are going through, there is a time we shall never see them again. "And Moses said unto the people, Fear ye not, stand still, and see the salvation of the LORD, which he will show to you today: for the Egyptians whom ye have seen today, ye shall see them again no more for ever" (Exod. 14:13).
Yours in His service,
Pastor David.

Greetings in the name of our lord jesus christ. I am pastor james obaeo of kingdom life chapel in mongenda, kenya. I want to introduce my wife lidia and our son tommy. God has called me into the ministry to preach his word and teach the people without compromise. We are doing wonderfully great in our master's vineyard. The hand of god continues to go before us as we seek his face and kingdom. We are ever present in this town where god has called us to serve him. At the present, we have no church structure. We gather under the shade of bannana fibers, but all in all, we have seen the mighty hand of god. God has always helped me and my church elders to maintain our church health and record growth for the several years. Recently we have become registered with our mother church, kingdom life chapel of washington, pa. In  america. Since then we have learned of water baptism in the name of jesus and also of the baptism of the holy spirit with the speaking in tongues evidence. Many churches here do not practice or accept this biblical truth as we did not until we studied god's word and received it. We have found the presence of god through his holy spirit as jesus said in john chapter 14:15-31. Proverbs 30:6 tells us we can not add or take away from gods word or he will rebuke us. We press in preaching and teaching god's word without compromising the word and as people come to church one at a time and knowing the truth and receiving the holy spirit and start speaking in tongues, we have seen the church growing from strength to strength.
We are in a time that temptations are following us, the devil will always try to scare us but i tell you all: fear not, for i am with you; be not dismayed, for i am your god; i will strengthen you, i will help you, i will uphold you with my righteous right hand. Isaiah 41:10. May our lord and savior jesus christ greatly bless and keep you.
Pastor james obaeo